There is quite an active filmmaking community in the New Haven/Bridgeport area, and this is a project that deserves notice.
Gorman Bechard wrote and directed "You Are Alone", a tale of alienation and loneliness, currently in post production. You can go to the website by clicking on
www.youarealone.com
.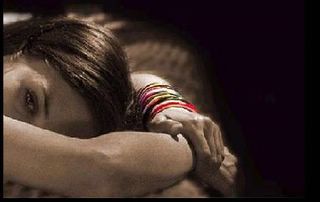 Jessica Bohl in "You Are Alone"
I'm looking forward to seeing this flick. Judging from the synopsis, it'll be extremely compelling. And looking at the soundtrack listing, it's gonna have a lot of musical depth.
Already Gorman Bechard is in pre-production on "The Second Greatest Story Ever Told", based on his book about Christ returning to us in present day, only this time as a rebellious young woman. We can only guess what happens to her.
I admire Gorman's willingness to take on subjects that are controversial and thought-provoking. There's way too many "safe" movies coming out of Hollywood these days; it's up to independent cinema to take these chances and push the creative envelope right to the edge. I find it really inspiring.
Maybe I'll take on something controversial for my next screenplay; that's the one I'm gonna write and shoot after I film this current one and the next two I've written and really want to shoot.
...damn, why aren't there more hours in the day? This lousy 24-hours-only per day shit AIN'T cutting it!