I'm rewatching the footage we have on VHS; we transferred the video from the mini-DV tapes to a single VHS cassette, for preliminary use. Now I'm making notes on various takes and logging the time stamp of good takes so I won't load up the editing system with the roughly 80% of the video we're absolutely not going to use. If there are two or more takes that are reasonably similar, I'll keep them in. Then we'll be able to do a rough cut based on the footage that's acceptable.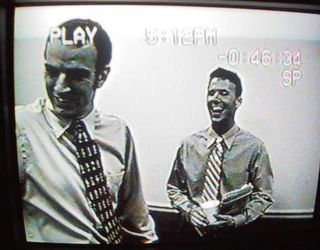 Yucking it up between takes
This time around I'm noticing all the little details that weren't so apparent at first. Like the take where James and Michael spill the coffee is a good laugh and will make the blooper reel. Actually, we've got WAY more bloopers than usable footage; I'm not altogether sure that's a GOOD thing. We're also going to try to put together a "Making of..." video, but everyone was pretty much working during the shoot and didn't have the chance to video us making the movie. We've got some stuff we can use, but that's not a primary concern right now...we just want to finish the shoot and get going on post-production.
Monday is going to be "Day Two" of the Big Shoot. More accurately, "Night Two". Or "Night One", since we shot during the day the first time around. Wait, I'm going to stick with "Day Two" and be done with it. Good, I'm glad I settled that.
We'll have about two good hours of studio use, and we're hoping to get a lot of the rest of the movie done. Regarding the footage we already have, there are some scenes with very minor continuity issues (mostly insignificant), but we have the option to do a quick reshoot next Monday in the hallway. One quick take and done. I hope.
Lighting will be very much an issue, and I'm hoping to get to the studio a couple hours early to set up and get most of the set ready. That way our actors and show up and start working without a lot of wasted time. The setups are very simple for these scenes, so we should be able to work fast. I hope.
Note to self for next movie: Be sure to secure the location for 8-12 hour blocks to save unnecessary effort on setting up and breaking down. That's not really an option here, but for later projects we'll make that a major concern.