As we get nearer to our production date, I've been working on storyboards. In a previous post I showed a photo of me getting dizzy from glue fumes while cutting and pasting the storyboard photos. Here's more info on how I'm doing it.
First, I simply started shooting storyboard photos with my digital camera, using actor stand-ins. I shot each picture from where I want to place the video camera, so the scene is more or less blocked the way I want it.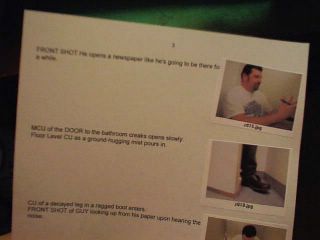 What I do next is print out contact sheets of the photos on my color printer. The contact sheet holds about 12 photos (each about 1-1/2" by 2") and then I cut them out. I printed out my script with about 8 blank lines between each camera shot, and then I glued each appropriate photo to the script. The extra blank line space is perfect for additional notes.
That's my storyboard.
It's very simple, and looks great to the actors and crew, which makes the whole thing work better. They'll understand EXACTLY what we want before we even get to the set. It'll save a lot of redundant direction to the cast and crew.